A Muslim woman's sermon at Coimbatore Church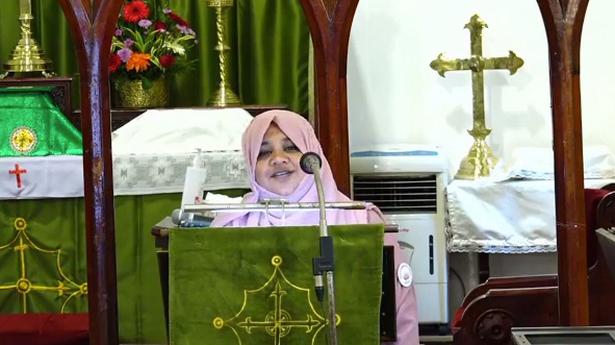 She was part of Jeeva Shanthy Trust, which CSI All Souls Church in Coimbatore honored during Sunday service.

She was part of Jeeva Shanthy Trust, which CSI All Souls Church in Coimbatore honored during Sunday service.

The iconic CSI All Souls Church in Coimbatore witnessed a rare event on Sunday.
"Our service to humanity is a real opportunity to prove our true love for God, and God alone," said Shehanaz Parveen, the guest speaker at the Sunday service in the church.
During the sermon of the 8:30 a.m. service, the priest and president of the church, the Reverend Charles Samraj, took a break and invited a woman in a hijab to the pulpit.
"We have no words to explain our happiness. I truly believe that this type of gesture between different faiths is what we [the country] need right now. After all, all religions emphasize love and harmony," said Ms Parveen of Jeeva Shanthy Trust, which held last rites for over 10,000 people, including unclaimed bodies and abandoned, in order to honor them for their service to society.
The congregation gave a standing ovation as Ms Parveen ended her three-minute address with a Bible verse: "He that shows mercy to a poor man lends to the Lord, and he will repay him for his good deed (Proverbs 19:17). »
She thanked the church for this rare honor and gave an overview of the trust's services to the congregation.
The trust has members and volunteers from different faiths. Trust founder Mohamad Saleem said the appreciation they received at Sunday's ceremony gave them more strength to continue their services.
The church administration congratulated all representatives of the trust with shawls. The church administration had invited six people, including Mrs. Parveen.
According to Reverend Samraj, the service rendered by the trust and its volunteers to society, especially during the COVID-19 pandemic, deserved to be appreciated as they worked regardless of religion, caste, creed or race. social status of people in need.
"We have a theme for each Sunday service. The theme for this Sunday was "God: For People of All Faiths". We found it appropriate to invite key people from the trust and honor them as the services they render fit well with the theme," he said.