"A radical change is happening in the Church"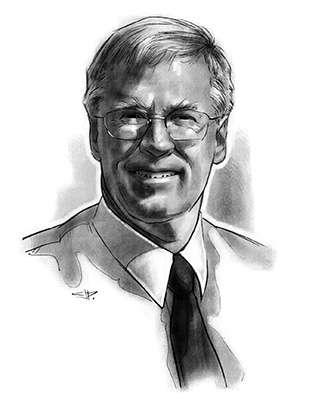 By Dr Jeff Mirus (bio – articles – email) | 04 January 2022
The Archbishop of Dublin, Dermot Farrell, announced that "a radical change is coming in the Church". For the Church in many places – and certainly for the Church in Dublin – this is very good news. Of course, that's not really news; it is a hope. Dublin needs hope because (to speak only of critical numbers) its 1.5 million Catholics are served by 312 active priests, of whom 139 are over 70 and 116 are on loan from other places. Additionally, Dublin is the largest city and capital of Ireland, a nation which over the last generation has quickly "caught up" to Europe in embracing secular national values. It is therefore clear that the Church in Dublin is in crisis.
On the other hand, the Church of Dublin is hardly alone. Strong and healthy dioceses are the exception rather than the rule throughout the West, where social, political (and often even ecclesiastical) pressures against Christian fidelity have increased dramatically over the past seventy-five years, roughly since the end of World War II. Historically speaking, of course, these pressures have built up slowly over the past five hundred years. The question is how to answer it: how to build a Catholic culture that counteracts these pressures with an attractiveness that continually attracts others.
Radical change?
Archbishop Farrell places his hope in the "synodal path" advocated by Pope Francis. As described by Farrell ("a powerful engagement of clergy and lay faithful, across the spectrum of the life and ministry of parish communities"), this approach sounds wonderful. It is certainly necessary: ​​as I have said many times, if we understand "synodality" as "the Church pulling full blast" then this is exactly what we need. But processes based on new slogans never get anywhere. What the Church lacks in the West is above all Faith. The vast majority of Catholic leaders (cardinals, bishops, priests, religious, professors and even politicians) are unwilling to embrace, preach and teach the harsh words of the Gospel, starting with …
Truly, truly, I say to you, unless you eat the flesh of the Son of man and drink his blood, you have no life in you; whoever eats my flesh and drinks my blood has eternal life, and I will raise him up at the last day. For my flesh is truly food, and my blood is truly drink. Whoever eats my flesh and drinks my blood remains in me, and I in him. As the living Father sent me, and I live for the sake of the Father, so he who eats me will live for my sake. It is the bread which came down from heaven, not as the fathers ate it and died; whoever eats this bread will live forever.[Jn6:53-58)[Jn6:53-58)[Jn6:53-58)[Jn6:53-58)
According to current polls, the vast majority of Catholics in the West, even if they go through motions, still say, "That's a tough saying; who can listen to it? (Jn 6.60).
We live in a Church in which saying (and believing) what the dominant secular culture of the West wants to hear is a defining characteristic of a large number of Catholics at all levels, yes, from Pope Francis down to the bottom. I am not saying that the Pope or this or that bishop is exclusively guided by modern secularism, but worried Catholics should be fools if they did not realize that Pope Francis and a large number of western cardinals and bishops place frequently secular and secular priorities. homes artificially high on their "to do" lists, repeatedly adapting the Catholic mission to the prudential positions that are still popular in the culture at large. It is popular, for example, to advocate for the environment, to defend the marginalized and to emphasize human brotherhood.
But it is not popular to preach the gospel in its fullness. It is not popular to repeat the words (so common in Sacred Scripture, Church Fathers and Saints) that our contemporary culture finds "harsh".
The most important things
There is a church down the street from where I live – a Protestant church, not a Catholic church – that is very active when it comes to feeding the hungry (which scores high in the mainstream culture), but was extremely uncomfortable with the peace and the praying testimony of 40 Days for Life to close the abortion clinic in a small business center adjacent to church property, for which pro-life protesters walked on the sidewalks in front of the business district and the church. In fact, much of the labor for the pro-life effort came from my own parish, over a mile away (an exceptionally healthy parish in the legendary Diocese of Arlington).
As a result, the clinic was eventually replaced by a genuinely Catholic medical center that serves the poor. But the attitude of the neighboring church towards all of this was ambivalent at best, hostile at worst. We all know that this ambivalence (and, yes, hostility), which dominates the old mainstream (non-evangelical) Protestantism, is also common in many Catholic parishes and institutions. The synodal path, in itself, has nothing to counter this galloping secularism. The synodal path is a process. It can only be as Catholic as those who engage in it.
The problem of "processes" should be well known to all by now. Time and time again, our dioceses have specified a "process" to invigorate a parish, raise funds, promote vocations, screen future clergy, protect children, improve Catholic education, and engage lay people. And time and again, such "processes" have had little or no long-term effect, unless a vibrant commitment to Christ, the Church, the sacraments and the sacraments. Catholic faith (as opposed to popular fashions) spurred the effort. General processes are largely unnecessary in the absence of a very particular faith that includes what many are so reluctant to hear: harsh words.
There has been a great effort on the part of the Church to affirm the holiness of the so-called "Vatican II" popes. It is very good; there are usually many personal and group interests at work to lobby for the canonization of particular individuals (a good example is the cause of the canonization of Father Michael McGivney, the founder of the Knights of Columbus; and of course the canonization of the founders of several religious orders). In any case, I trust the Church to canonize the saints without error, knowing that there are a much larger number of saints who are not canonized.
But when it comes to the kind of holiness that inspires genuine Catholic renewal in the people, parishes and dioceses that make up the life of the Church, it seems clear that neither Pope Saint John XXIII nor Pope Saint Paul VI did not have that kind of influence. Only Pope Saint John Paul II had it clearly – inspiring countless initiatives from lay people and a whole generation of priests who were much more deeply committed to the Faith (on average) than those of previous years – and who were made available for the priesthood. dramatically increasing service at a time when so many of their predecessors were leaving the priesthood completely
Or more of the same?
Now, what inspired such priests and lay people during John Paul II's long pontificate was precisely the Pope's emphasis on faith and commitment to all the harsh words of Jesus Christ – a unwavering counter-cultural witness at the highest levels of the Church. Time and time again, Pope Saint John Paul II has clarified and forcefully affirmed the Church's absolute certainty about these harsh words, and especially those moral principles which were almost universally rejected in the mainstream culture of the Church. West, and therefore rejected or ignored throughout the Church. in the West. Pope Benedict (Joseph Ratzinger) had been the right-hand man of Saint John Paul, as prefect of the Congregation for the Doctrine of the Faith, and he continued to consolidate the Church's commitment to "harsh sayings. »Through his own too brief pontificate.
It should be noted that Pope Saint John Paul II, reflecting on his ministry on the occasion of the fiftieth anniversary of his priesthood, said that one of his regrets was not having exercised sufficient discipline on the rebel clerics, preferring to be inspired by teaching and personal example. It is interesting to note that Pope Benedict quietly removed many more bishops for dereliction of duty than his predecessor, but he did not see himself, as he grew older, as capable of continuing the very difficult administration of the Church. (especially, it seems, against so much obscuration). and resistance to the Curia itself).
Which brings us to what? A new emphasis on common ground with the secular world and a new Church-wide consultation process! I hope someone will be inspired somewhere by all of this, and I pray that it will energize a deep commitment to Christ as measured by these words about Christ that Catholics seem to find today. so difficult. But at the end of the current pontificate, after so many attempts to use yet another open process for private gain, I don't expect Bishop Farrell to wait. I am not waiting for our Church to wake up. I do not look forward to any proposed new substitute for the harsh words of Jesus Christ.
Sound cut! Supporters of CatholicCulture.org are stepping in.
All comments are moderated. To lighten our editing burden, only current donors are allowed to ring. If you are a current donor, log in to view the comment form; if not, please support our work, and Sound Off!