A retirement village where you can shop, dine, go to church and go to school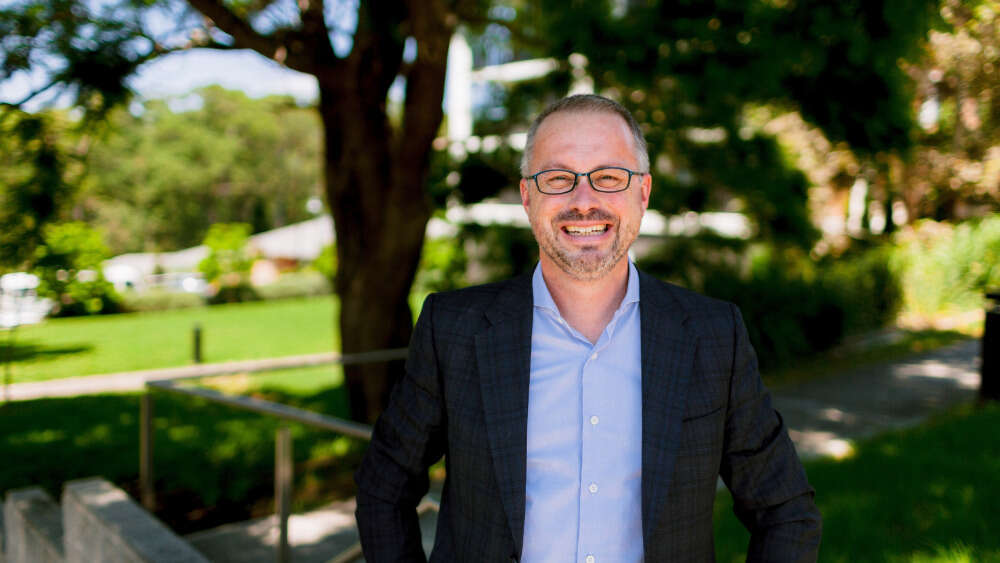 He's only been in the job for a month, but already Anglicare Sydney's new CEO, Simon Miller, has a big vision for expanding his aged care services.
Its vision is to create integrated communities that bring together not only seniors, but the outside world as well.
"It's this idea of ​​moving from what used to be called independent living – people now call it retirement residence – to retirement residences or thriving seniors. So, do you think about how you thrive as you age? I'm really looking forward to thinking about the next thing we can do," Miller said. Eternity.
He gives examples: "As people age differently [today], people want to stay home and stay independent longer. I really want to bring together what has historically been called independent living and home care, and think about how we can start providing the services that allow people to stay in their independent units for as long as possible.
"But beyond that, how do we envision connecting these villages to the community? So these are not gated communities where you could go visit your aunt on a Saturday afternoon. But in fact, they are connected to the life of the community.
In this vision of integrated communities, there are connections to local churches and potentially stores and restaurants as well as opportunities for grandparents to have their grandchildren nearby in kindergarten or daycare.
"Now we are exploring all of these things. So we don't yet know exactly what the shape of it will look like.
"Aging well is partly about connectivity. –Simon Miller
That said, that vision is already a reality at Anglicare's Oran Park retirement village in Sydney's south-west.
"Here we have a retirement village next to the school, next to a church – all on one campus. And we're looking to see if we can do more of those campuses that connect schools, child care centers, churches, and nursing homes. We are now creating restaurants and cafes where people from the community can enter. It's the beginning, but it's the idea that when you're retired, you're not going out of life — you're going into life," says Miller.
This link is particularly important in light of the high rates of social isolation experienced by older adults. A quarter of Australians aged 65 and over live alone, and around one in five older Australians (19 per cent) are defined as socially isolated – with minimal contact with other people.
Miller is keen to rethink the way our society approaches the care of older Australians.
"We had this very modern western idea of ​​the nuclear family, being mom and dad and a few kids. When you start to think about what aging well looks like in other societies, we've lost that intergenerational context – grandparents, great-grandparents and grandchildren getting involved together and getting involved together in the lives of other people's extended intergenerational families.
Miller's aim for older people living is part of a wider vision that encompasses Anglicare's other services. These include food and financial assistance, housing, foster care and adoption services, counseling and mediation, and mental health support.
"I love the idea of ​​Anglicare being a place that creates families," enthuses Miller. "It helps heal families when things are not going well. It's family when people don't have families, and it's about connecting families across generations. So I'm starting to explore the idea of ​​what does it mean for Anglicare to play a role in supporting the family? And then that ties in pretty well with the whole idea of ​​aging well. Part of aging well is connectedness.
Lessons learned
As Miller takes charge of Anglicare, the organization – like other aged care service providers – is still unpacking the lessons learned from its response to COVID-19. For Anglicare, many of these lessons relate to the outbreak at Newmarch House in Sydney in April 2020, which resulted in the death of 17 residents from the disease.
The experience has taught Anglicare how to better prepare for and manage a crisis, including how to keep residents connected to their families during these times, Miller says. It highlights how several Anglicare properties handled preparations and evacuations during recent floods in northern New South Wales and Queensland.
In addition to dealing with COVID, the aged care industry is also digesting the recommendations made by the Royal Commission on the Quality and Safety of Aged Care in March 2021. Miller admits there are more cracks in the senior care system that cannot be fixed. only by service providers – they need more government funding.
"It's a once-in-a-generation chance to get elder care on the right footing." –Simon Miller
However, he is positive about the potential for change in the industry, saying: "There is a big opportunity with the reforms that are shaping up in the wake of the Royal Commission – and it really is a once-in-a-generation chance. to get care for the elderly on the right footing.
For Miller, a key recommendation from the commission is a new integrated aged care program that "combines the existing Commonwealth Home Support Scheme, Home Care Package Scheme and Residential Aged Care Scheme, including respite care and short-term restorative care".
"It's exactly the right direction," says Miller. "So this whole idea that it's not about where you live; this is what you need. And so, as you get older, it comes down to how do you make sure you're getting the right services from the right providers at the right time, in the way you want them as an individual? »
Anglicare operates 23 retirement villages and 25 residential aged care facilities in Greater Sydney and Illawarra, as well as home care and other aged care services (such as respite, dementia and palliative care).
"From Anglicare's perspective, I want to make sure we have high quality services that are integrated across the spectrum of what people need – from home care, to retirement living and care to the elderly…so when this new system of government is in place, Anglicare is ready to serve them," he says.
Holistic care
Miller's confidence in creating a global vision for Anglicare comes from his problem-solving experience as managing director and senior partner at the Boston Consulting Group for more than 14 years. He has also held leadership positions in several government departments and boards, including for Mission Australia. Early in his career he was Chief Executive of the Social Affairs Committee of the Anglican Diocese of Sydney.
However, Miller's vision for integration is not just about the big picture. It is also about holistic care at the individual level.
"I think that's something that Anglicare – and for that matter, other Christian aged care providers – offer, which is really important. It's not just about someone's physical needs. It's not just about their emotional needs. It is also about their spiritual needs.
He notes Anglicare's 120 chaplains, many of whom work in their retirement villages and nursing homes.
"They are truly Christ for people in need – for residents and family members. They are by their side and someone to talk to. In some cases, they are literally a shoulder to cry on.
As most Anglicare chaplains are employed by a local church, Miller notes that chaplains "also create a bridge between Anglicare communities and the local parish."
"It's a beautiful thing," he concludes.
"We are about the whole person. And so it's not just about living our faith, but it also creates opportunities to connect people to Jesus in ways that other organizations don't. They do a great job, but that's not what they focus on.
Email this story
Why not send it to a friend?
To share