BRAWLEY- Brawley First United Methodist Church (BFUMC) celebrated its 118th anniversary with a reception after its service on Sunday April 10 in Brawley.
The church – billed as Brawley's first church by members – was founded in April 1904 with 23 founding members, its first building previously located at 5th and H streets. The cornerstone of the current church – located at 133 K Street, across from Witter Elementary School – was laid in 1949.
The church has had 35 pastors, from the Reverend HC Mullen in 1904 to its current pastor, Nelly Schettler, who has pastored BFUMC since 2015.
Schettler, whose maiden name is Dominguez, said BFUMC started out as a mostly Caucasian congregation, but over the years has grown into a mostly Hispanic membership.
"Something very important is the spiritual realm," Schettler said. "I've been here since 2015 and I can see the difference in every family and every individual, and how the Lord is working."
"I have witnessed the unity and great relationship we have as brothers and sisters in Christ in this church," she said. "We are not just for a small group, but we are open to the whole community."
Although some programs have passed through the church over the decades, such as crisis pregnancy support for teenage girls and the Boy Scout program, BFUMC has remained strong in its commitment to helping families in need. through food distributions for 30 years, Schettler said. BFUMC fed families and individuals in need through its previous "Fish and Loaves" program, which expanded to greater food distribution through the USDA and Imperial Valley Food Bank. BFUMC serves approximately 300 households every third Saturday of the month.
Schettler said their prayer meeting held Tuesdays at 9 a.m. and their narcotics recovery meetings held Tuesdays and Thursdays at 6 p.m. are also church staples.
"Our prayer meetings are open to the community. We have wonderful testimonies of healings and how God works," Schettler said. "People with addictions are welcome to be helped."
She said the church is always trying to reach out to younger generations. "(Our members have) a thirst for the word of God," she said. "People want to know more and more about God and as soon as they come, they feel like part of this family."
"It was wonderful (to be a member here). I've made a lot of friends over the years," said 85-year-old longtime church member Charlene Molina. "It's a family type thing."
Molina said she joined the Brawley First United Methodist Church 55 years ago when she moved from Holtville to Brawley after being married to her husband (now deceased), transferred from Holtville Methodist Church to Brawley .
She said it was the people at BFUMC who made her feel like home, and although she outlived many of her friends, she is trying to bring in her more than 50 grandchildren and great-grandchildren. at the church.
Molina said she hopes young people will start coming to church like her great-grandchildren do, even though most don't understand Spanish.
"It's good for them because now they are closer to the Lord. With the world we have today, these children need (God)," she said. "God is always with them, and they are aware of it. This is important (because) the end is near.
"My concern for them is to know the Lord and to know that they will go to heaven," Molina said. "For me, it's been a wonderful experience in my life, and I want them to have one too."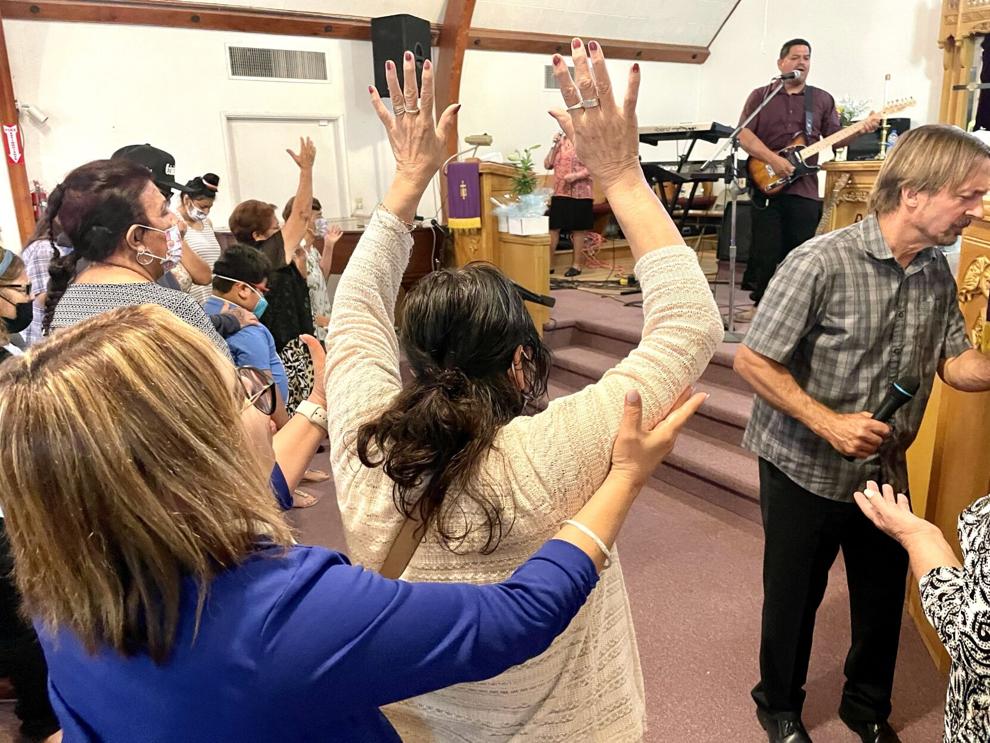 The head of the music ministry, Ulises Villa, agreed. "I feel the same that we are a family," he said in Spanish. "It is a privilege to celebrate 118 years as a church."
"This church helps the community a lot with its recovery programs, probation assistance and free monthly food distribution," he said. "It's a privilege because you meet people, they preach to you and they come."
"Thank God for bringing me here," Villa said. "I've been here for two years and it feels good."
Brawley First United Methodist Church will hold a bilingual (Spanish/English) service on Good Friday April 15 at 6 p.m., Schettler said. BFUMC's bilingual Easter Sunday service will be at 11 a.m.
For more information about Brawley First United Methodist Church programs, call 760-344-2064.