Brazilian Church supports indigenous groups in fight against mining interests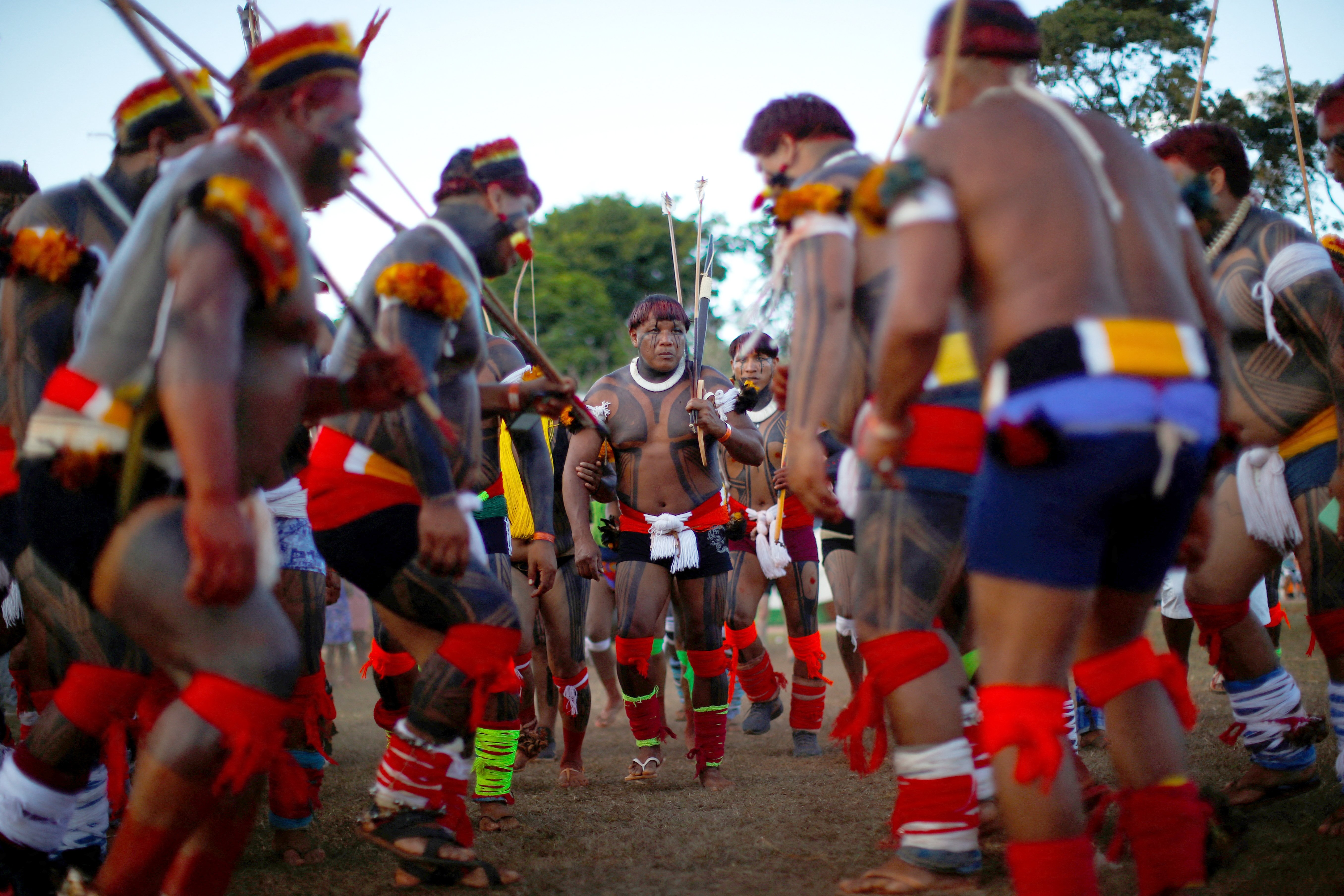 SÃO PAULO – As Brazilian President Jair Bolsonaro's allies in Congress try to pass a bill allowing mining operations in indigenous territories, indigenous activists and religious organizations say it would have a negative impact on the environment and human rights in this South American country.
Last week, more than 7,000 members of indigenous groups from all parts of the country camped inside the capital Brasilia to protest against the proposal, which had been designated by the President of the Chamber of Deputies Arthur Lira – a Bolsonaro ally – as a matter of urgent consideration.
The bill was first introduced in 2020, but due to opposition from indigenous peoples and other groups, it was taken off the schedule of Brazil's Congress. Now supporters of the bill are using a fertilizer shortage caused by war in Ukraine as an excuse to reintroduce the proposal.
The Bolsonaro administration argues that the minerals needed to produce fertilizers – especially potassium – can be found in indigenous territories. Environmentalists say there are potassium reserves in many areas outside indigenous territories and that starting mining projects now would not yield short-term results and therefore would not affect the current shortage.
On April 11, protesters covered their bodies in mud and fake blood to represent the environmental and social damage caused by mining operations on Indigenous lands.
The indigenous encampment dissolved on April 15, with protesters saying it had helped postpone the bill, since the April 8 deadline imposed by Lira had passed without incident. However, the congressman promised that it would be voted on by the end of the year.
In March, the main association of mining companies operating in Brazil – including Rio Tinto, Anglo American and Vale – issued a statement criticizing the bill, explaining that any legislation "should be widely debated by Brazilian society, especially by the Indigenous Peoples ".
Nevertheless, pressure from certain industrial sectors for the use of indigenous lands continues, said Antônio Eduardo de Oliveira, secretary general of the Indigenous Missionary Council of the Episcopal Conference (known as CIMI).
"There is a growing assault on indigenous rights in Brazil. Loggers, miners and agribusiness have government support in their intention to explore indigenous lands," he said. Node.
Oliveira said even indigenous peoples whose territories have been officially set aside as reservations by the government – such as the Munduruku, Xavante and Yanomami – have had problems with illegal mining operations.
Last week, a Yanomami association called Hutukara published a report on the impact of illegal mining on the group's territory in the Amazon region. The document shows that illegal mining activities increased by 46% in 2021, affecting 273 Yanomami communities and 16,000 people, more than half of the total Yanomami population.
The devastation wrought by illegal miners includes the contamination of the territory's rivers with heavy metals, the destruction of local vegetation with the resulting impact on local wildlife, and an increase in cases of malaria.
"The pits opened and then abandoned by the miners accumulate rainwater and favor the breeding of mosquitoes. We have faced hundreds of cases of malaria, which are severe, especially in children," said Junior Hekurari, a Yanomami health official. Node.
He said malnutrition is another serious problem in many Yanomami communities. Mining drove out the animals that indigenous peoples usually hunted and also killed the fish, causing growing hunger.
"Children are suffering from diarrhea from dirty water," he added.
Direct violence against the Yanomami has also increased, according to the Hutukara report. Miners have repeatedly threatened and attacked communities. Last year, a video captured a group of miners shooting at the community of Palimiú.
Cases of rape were described as frequent, including of teenage girls. The minors are also accused of offering to exchange food for sex, according to the report.
"I have personally seen cases of 13-year-old Yanomami girls who got pregnant by minors," Hekurari said. Node.
The number of miners currently operating in Yanomami territory is estimated at around 20,000 people, while the Yanomami population is around 26,000.
Residents also complain about the heavy machinery, boats, dredges and planes used by the miners.
"The noise of the engines never stops. That makes it impractical for pajés [the Yanomami shamans] focus. It kills our spirituality," Hekurari said.
De Oliveira said similarly serious situations can be identified among several indigenous peoples living in different regions of Brazil. The bishop said that all indigenous groups are mobilizing against the bill and other legal attacks on their rights, and hope that Bolsonaro will be defeated in the next presidential elections.
"But even if he leaves Brasília, the situation will remain very difficult. The attacks on indigenous rights have been too deep. All peoples will continue to protest against whoever wins the elections," he said.
Archbishop Roque Paloschi de Porto Velho, president of CIMI, said it was "shameful" that mining companies – legal or not – were operating on indigenous lands.
"It is a disastrous policy to take indigenous lands and exploit them. He destroyed our common home, to concentrate wealth in the hands of a few people," he said. Node.
Paloschi said such "inhumanity" was applauded by Brazil's president and many of his ministers.
"That's why these brave indigenous people have cried out to the world that these policies are a dead project," he said.