Church helps Ukrainian refugees start their business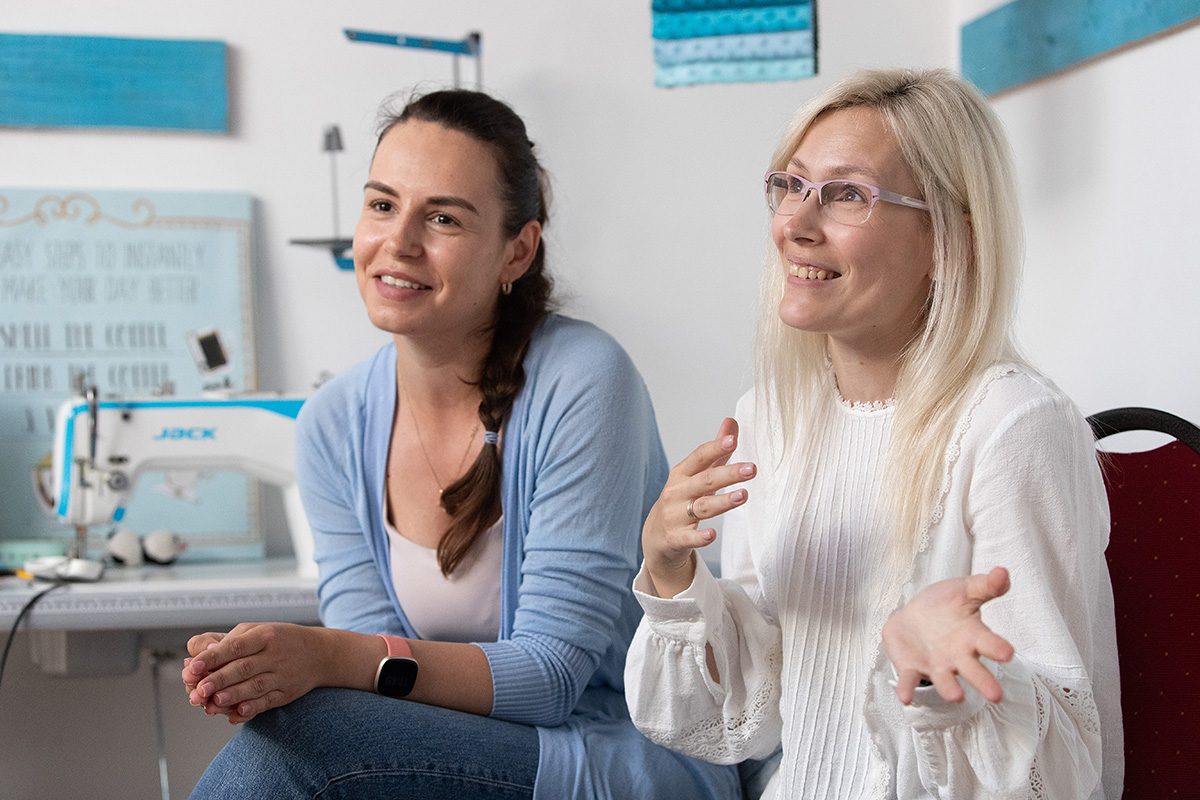 ---
Key points:
The United Methodist Church in Romania runs a hotel that hosts various ministries. They helped two Ukrainian women start a tailoring business there.
The women said their work is a helpful distraction from bad memories of fleeing war.
They sew "everything you need" for babies, from blankets and sheets for cribs to toys and hanging baskets.
---
Editor's note: In late May, a team from United Methodist News, the United Methodist Committee on Relief, and the United Methodist Board of Global Ministries visited Church refugee ministries in the Czech Republic, Hungary, Romania, and western Ukraine to share stories of United Methodist presence in the aftermath of such tragedy and continued need. UM News has agreed to use first names only for some of the interviewees to protect their safety.
Living on an upper floor of her building in Odessa, Ukraine, Maria had a ringside seat when Russia invaded her country on February 24.
"When the war started, I saw it all from there – very loud, very bright, very scary," she said.
The next day, she knew it was time to flee. Her husband, a sailor at sea, urged her to go to Slovenia but, she says, "I was tired; it was night. I opened the map and found the nearest town, and it was Cluj.
Cluj-Napoca, this "closest" city, is still a 10-hour drive from Odessa, so she arrived in Romania late at night with her two children, her mother-in-law and a small dog, in search of from a hotel that allows pets. She found a vacancy at Hotel Hanul Fullton, a hotel and ministry center run by The United Methodist Church in Romania.
"In the morning, Rares (Calugar, superintendent of the church) came and said we could stay a while," Maria said.
She was the first refugee to arrive in town, so Calugar asked if she knew of any other people who needed help. Her first call was to her friend Daryna, who had to leave her town of Kryvyi Rih. Daryna's daughter suffers from a metabolic disease requiring special drugs that she could no longer find in Ukraine.
"When the shock was behind us, we thought about what we wanted to do," Maria said.
Back in Odessa, she had been a professional seamstress. Daryna, who taught high school economics, had started sewing for extra cash during COVID. A business idea was born.
Daryna irons a baby blanket while Maria watches the embroidery machine in their sewing studio at the United Methodist Hanul Fullton Hotel. Photo by Mike DuBose, UM News.
Calugar found them work space at the hotel and bought them a sewing machine. Through complex arrangements, Maria was able to have her embroidery machine delivered from Odessa.
"It was a lot of people traveling by car, different people," she said. "It's very expensive and it's the main machine we needed for sewing."
They sew "everything you need" for babies, from blankets and sheets for cribs to toys and hanging baskets. For now, they work for donations but hope to make a business out of it.
Maria said work is also a useful distraction.
"When you're doing something like sewing, you don't think about bad memories," she said, noting that her daughter was always scared and tried to hide when she heard a plane.
All their children go to school in Cluj-Napoca. Due to having a child with special needs, Daryna's husband is exempt from Ukraine's compulsory military service and was able to accompany her. A former IT manager, he currently works in a supermarket, but Daryna said he was learning Romanian in order to find a better job.
"That's why we plan for the long term: how to create jobs and integrate people into the community," Calugar said. "Our resources won't last forever and some of these people have nowhere to go, so they will be here."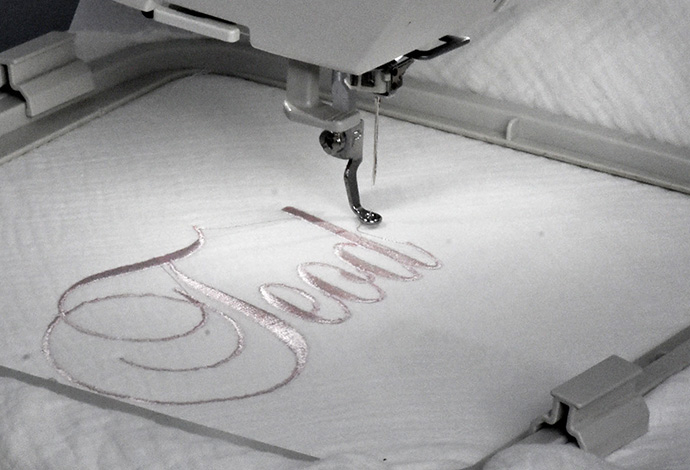 Maria and Daryna use a computer-controlled embroidery machine to personalize baby items. Photo of Reverend Üllas Tankler.
Daryna said every day they think about going home, but it's not safe. "My parents and my in-laws are still there. Our hearts are in Ukraine. Until the end of the war, we will be somewhere else.
Maria said she and her family felt safe now.
"My daughter has new friends here, both Romanian and Ukrainian, and now she thinks about it as if it were a new trip," she said. "But when I put her to bed, she asked, 'How is my room and my toys at home?'"
For now, Daryna and Maria have called Cluj-Napoca and the Hanul Fullton Hotel their home, and they are grateful for the hospitality extended to them.
"I don't know what we would do if Maria hadn't found this hotel and Rares," Daryna said.
Maria said she couldn't take credit for it.
"Maybe this hotel found us. It was fate or God; I do not know."
Butler is a media producer/editor for United Methodist News. Contact him at (615) 742-5470 or [email protected] To read more news from The United Methodist Church, subscribe to free daily or weekly digests.
Watch the video