Church's 'Blue Monday' scheme launched to address issues for vulnerable people in South Tyneside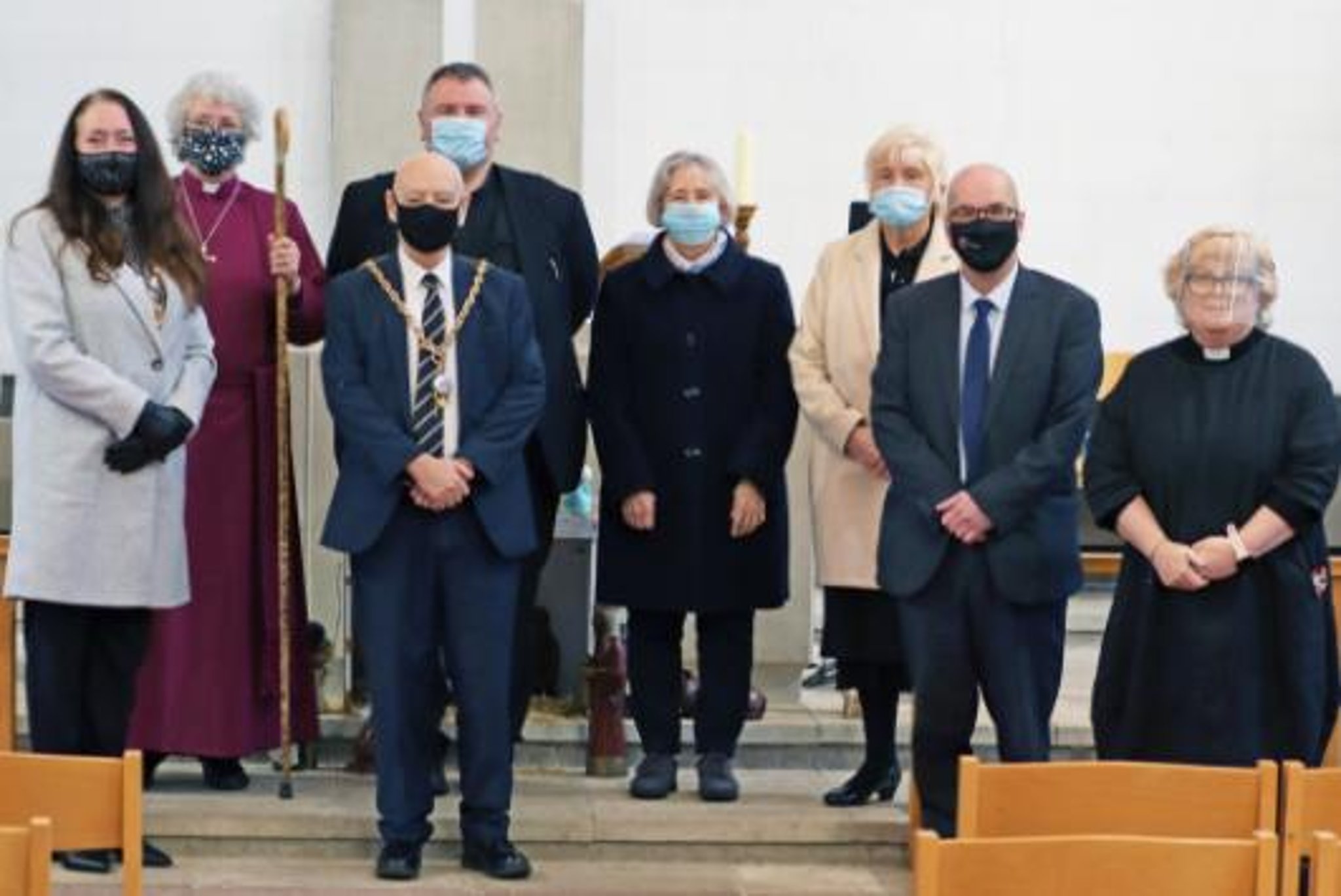 On what is called "Blue Monday" because it is supposed to be the most depressing day of the year, a group of churches started working together on a new project, Places of Welcome Plus. It was officially opened and blessed by the Most Reverend Sarah Clark, Bishop of Jarrow.
The scheme is funded by the Christian organisation, Lord Crewe's Charity, marking the charity's 300th anniversary. This is part of the church's broader response to help individuals and families get back on their feet after covid.
It was born from listening to people, their concerns and their needs at the height of the pandemic.
Left to Right: Deputy Mayor Cllr Lynn Blair, Rt Revd Sarah Clark, Bishop of Jarrow, Deputy, Mayor Cllr Joe Amar, The Venerable Bob Cooper, Archdeacon of Sunderland, Cllr Moira Smith, Jacki Dunn Lay Pastoral Minister, Paul Baldasera du South Tyneside Council and the Reverend Lesley Jones.
Help and support will be offered through a network of Places d'accueil Plus reception centres, which offer safe places to go, a listening ear and an opportunity to get involved. No money is needed and refreshments are free.
Starting in February, drop-ins will allow people to access the Community Money Advice Connect Centre's free debt help service and/or meet with a mental health first aider.
Drop-in centers are open 11am-1pm each week: Mondays, Action Station, Boldon Lane, South Shields; Tuesdays, St Peter's Church Centre, York Avenue, Jarrow; Wednesdays, St Simon's Church, Wenlock Road, Simonside; Thursdays, Saint-Jean-Baptiste Parish Hall, Nairn Street, Jarrow.
Bishop Sarah said, "We all know that when life is tough, and life is tough right now, one struggle leads to another and anyone can easily feel lonely, stuck, not knowing who to turn to. turn.
The Rt Revd Sarah Clark, Bishop of Jarrow at the launch of Places of Welcome Plus.
"Welcoming places are safe places to turn to, with people who will welcome anyone who comes forward and anyone who wants to be part of the response.
"They are a gift to the people of South Tyneside made possible by local people seeing what is needed and a local charity, Lord Crewe's Charity, listening and making a difference through its Tercentenary Grant. It is a pleasure to be part of the launch.
Reverend Lesley Jones, Rector of Jarrow and Simonside, said: 'With all the uncertainty and isolation, many have realized how important it is for all of us to work together to support each other.
For more information or to volunteer contact Nikita on 07555 406 416 or email [email protected]
Volunteers Barbara Bradley and Dorothy Lamb at the launch.
Read more
Read more
CHILDLINE TIP: Getting outside can help deal with that Blue Monday feeling
Support your Gazette and subscribe today.
Enjoy unlimited access to all our news and sports, see fewer ads, enjoy faster loading times, test your brain with daily puzzles and access to exclusive newsletters.