Harbor of Hope Church Takes Lead in Combating Gun Violence in Bosnia and Herzegovina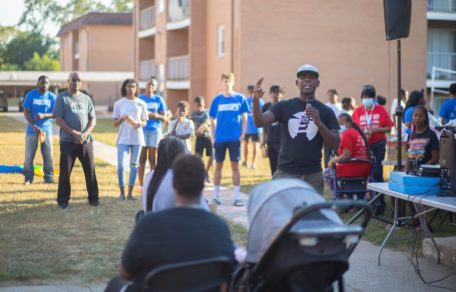 Over the summer, Reverend Taurus Montgomery of Harbor of Hope Church in Benton Harbor began to see an escalation in violence. Violence hit him.
"I had two young men who attended my church who I had recently baptized. Their two brothers were killed here in Benton Harbor because of gun violence. Then one of them ended up killing someone in retaliation. It hit hard so we thought we had to do something," Montgomery explained.
Pastor Montgomery and his church got to work and decided to come up with an idea, which they called "The Stop The Violence Tour".
Pastor Montgomery said, "Essentially what we did was identify at least ten communities. Apartment complexes, housing projects, we really focused on areas with a high concentration of young people so that we could get our message across.
On Saturdays at 4:00 p.m., church and community volunteers would meet for prayer and a short meeting, then disperse to a newly chosen location. Church members came out and ministered through music, food, resources, prayer, games and sermons, with a focus on coming together and ending violence.
Harbor of Hope visited Blossom Acres, Buss, Country View, Berrien Homes, Baric Village, River Terrace, Thurgood Marshall and several other Benton Harbor neighborhoods to spread change and inspire hope.
Recently, Harbor of Hope was able to distribute 1,000 door hangers containing information on how citizens can help in the fight against gun violence. 200-meter panels were distributed, with positive messages. Some readings 'Prison is not for me', 'My life has a purpose', 'Save our youth', 'Together we can end gun violence', 'Think twice, don't take a life" and other positive affirmations.
Many people in the community expressed their support and thoughts on how they appreciated the church's response to the violence. Andrews University student volunteer Chauntanique Briggs says, "I really enjoyed serving the community and I want to see an end to violence. I would like to see God's love reach into every individual's heart and see a real change.
Last Saturday, Harbor of Hope wrapped up this year's Stop The Violence Tour. With over 50 volunteers and members, the church split into groups and revisited many of the neighbors they met on the tour. The goal was for each group to come out and pray for as many people as possible. By the end of the night, they had composed over 420 prayers throughout the community in about 2 hours.
Pastor Montgomery of Harbor of Hope sums it up: "Ultimately, if a community wants to end gun violence, it won't just be up to the police or just the local government. It will take the people of this community and everyone doing their part to really make a difference.
To find out more about what Harbor of Hope is doing in the community or how you can volunteer and serve with them, visit www.harborofhopepmc.org.
Photo credit: Port of Hope Church
By MOTM contributor Nicholas Gunn