Melton Church celebrates 150 years of service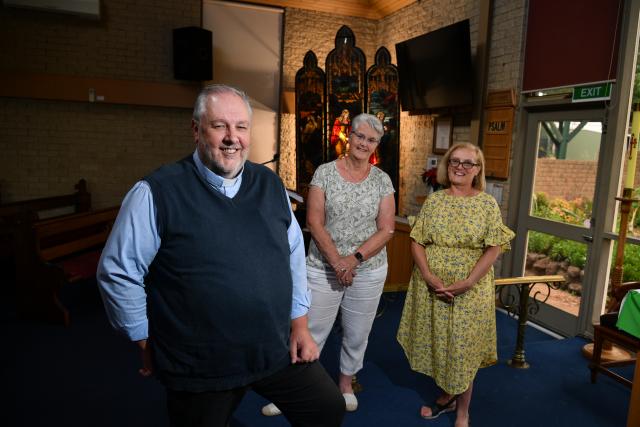 Sarah Oliver
The gold rush, an infamous bushranger, two world wars and a time of debt – the Anglican parish of Melton Christ Church celebrates all of this and more, marking 150 years of service this Sunday, February 13.
Reverend Neil Taylor took office the same day the state entered lockdown in 2020 and quickly learned to pivot.
"It's an old congregation," he said.
As with changes throughout the church's history, Reverend Taylor has brought services to his congregation online, including installing two large televisions to support his sermons.
The updated building with live streaming is a far cry from what the church was in its hay days.
Parish historian Carolyn MacGavin has researched the church and building extensively.
"The history of the Melton Anglican Church site goes back to the earliest beginnings of Melbourne itself," she wrote.
Although the site of the church on Unitt Street is the same, the building was destroyed in the late 1980s due to insecurity.
The land was first set aside for the church in 1851 and the church was gradually built up until 1867 when they were short of funds and without a roof.
"When more money was found it was completed ready for an opening service in January 1869, services were held there until Bishop Perry himself officially consecrated it in January 1872 ", Ms. MacGavin wrote.
One of the most bizarre moments in the history of the church is the four services led by bushranger Captain Moonlite, aka Lay Preacher, whose real name was Andrew George.
Scott.
He then made a "sudden departure" to Sydney.
The current building finished its construction in 1985, not without getting into a bit of debt.
"At some point in 1983, this parish went into debt to the tune of $228,404," Ms MacGavin wrote.
"Thirty-eight years later, the debt has been repaid, and on December 4, 2011, Bishop Philip Freier consecrated the building in the name of God."
An original stained glass window from 1903 still resides in the church, which was created by those who made some of the windows in St. Paul's Cathedral.
"After 150 years on this site, we look forward to many more years to serve," Reverend Taylor said.