Priest quits after Catholic Church invalidates baptisms over one wrong word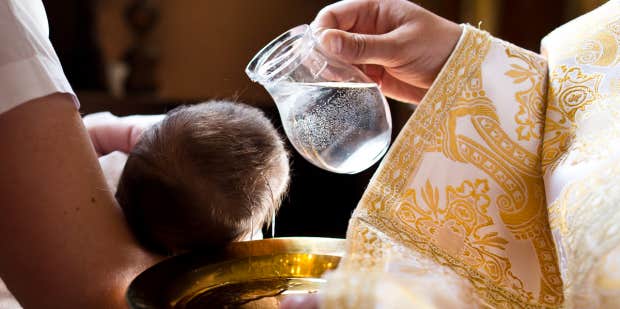 The Catholic Church is one of the oldest institutions ever created, with popes dating back almost to the life of Jesus Christ. As you can probably imagine, such an old organization has a lot of traditions.
And the Catholic Church cares a lot about its traditions.
A priest resigned and thousands of baptisms were declared invalid because of a single word.
from arizona Father Andrés Arango resigned from his position in the Catholic Church after discovering that, during baptisms, Arango used slightly incorrect wording for the ritual.
During the last twenty years, during baptisms, Father Arango pronounced the phrase: "We baptize you in the name of the Father, and of the Son and of the Holy Spirit".
To the uninitiated, nothing would seem out of place here, but to the Vatican it was irreconcilable with the correct line.
In the correct version of the ceremony, the priest used the word "I" instead of "we" as Father Arango had done for 20 years.
This means that the correct version of the same would be "I baptize you in the name of the Father, and of the Son, and of the Holy Spirit."
All of Father Arango's baptisms have been declared invalid.
It would leave many wondering, "so what?" Well, according to the Vatican, any baptisms Father Arango performed incorrectly don't count.
Worse still, any subsequent ceremonies that rely on the participant having already been baptized have also been declared invalid.
This includes confirmations – the Catholic coming-of-age ceremony in which a baptized person officially becomes a full member of the church – and even weddings.
The Vatican asserts that a community cannot baptize a person.
As for the Vatican, its official position on the matter is that no person, priest or otherwise, can simply choose to make changes to the wording of baptism, whether a priest or someone else.
The problem for the Vatican is literally a problem of semantics, "The problem with using 'we' is that it is not the community that baptizes a person, rather it is Christ, and He alone, who presides to all the sacraments, and therefore it is Christ Jesus who baptizes," a bishop said.
Father Arango expressed his sadness at the loss of much of his previous work in the church, saying, "I sincerely apologize for any inconvenience my actions have caused and sincerely ask for your prayers, your forgiveness and your understanding".
Related stories from YourTango:
It remains to be seen what will come next for the people who have been affected by the cancellation of thousands of baptisms, Father Arango has decided to try to help correct his mistakes and the Vatican does not seem to want to excommunicate anyone. either on publish it.
More for you on YourTango:
Dan O'Reilly is a writer who covers current affairs, politics and social justice. Follow him on Twitter.