Small churches still matter, says pastor of Martha's Vineyard church that has hosted migrants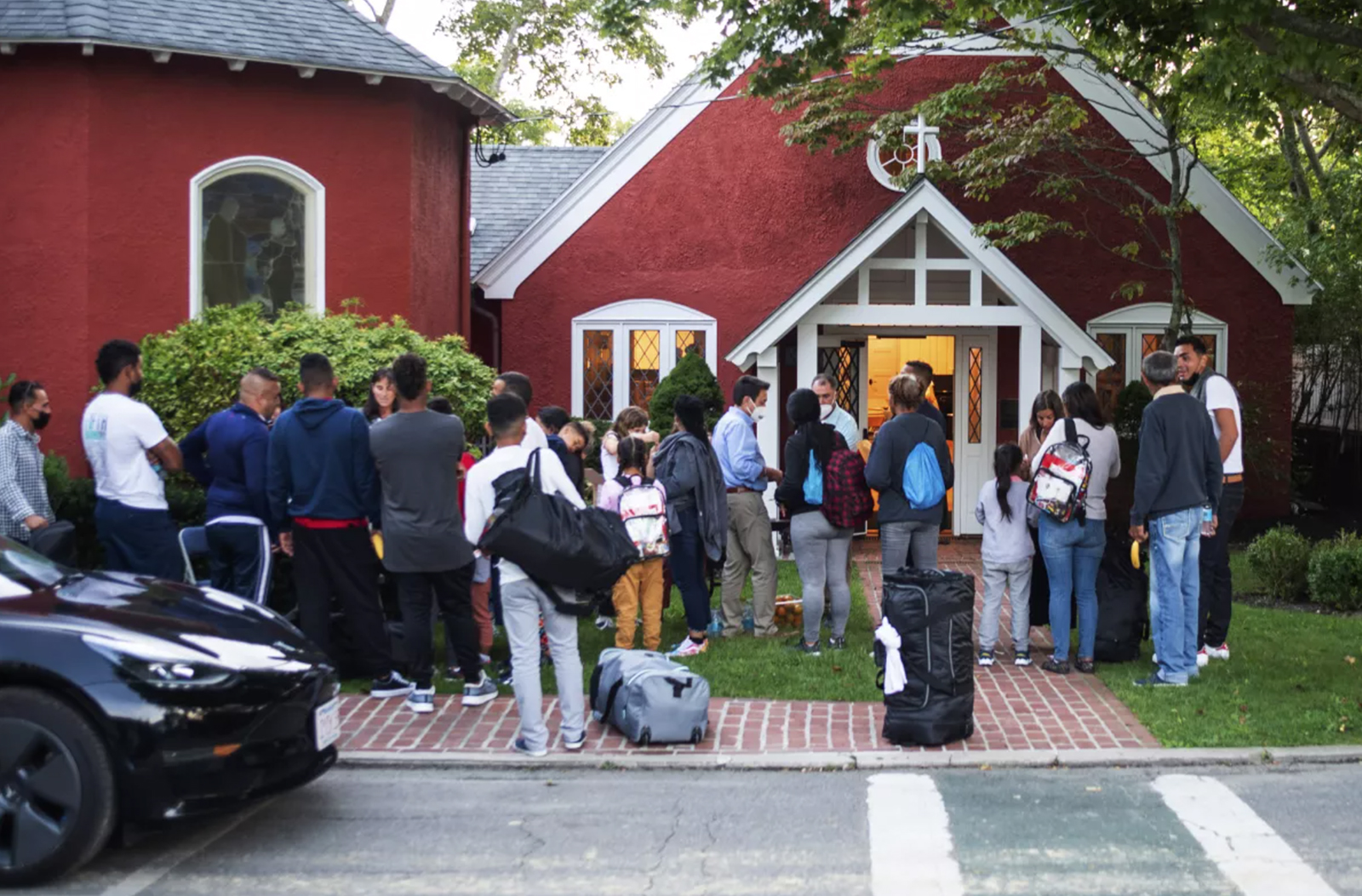 (RNS) – Reverend Vincent "Chip" Seadale was at a denominational meeting in North Carolina when he received a call that something was brewing at Martha's Vineyard.
The call came from a counselor who sometimes attends St. Andrew's, the small Episcopal Church of Seadale Pastors in Edgartown, Massachusetts, a popular island tourist destination.
She had just learned that around 50 migrants from Venezuela had landed at the airport on Wednesday and needed help. They had been sent to the Vineyard, about 28 miles off Cape Cod, by Florida Governor Ron DeSantis as part of a strategy by Republican governors to send immigrants to blue states.
Seadale and other members of Martha's Vineyard Island Clergy Association did what clergy do in a crisis: They stepped in to lend a hand.
"We just decided we were going to make it work and then hope for the best," Seadale said in a phone interview.
For two nights, St. Andrew's hosted Venezuelans, providing meals and lodging at the parish house, which hosts a shelter four nights a week during the winter. The parish hall is already equipped with cots, a large kitchen, showers and a laundry room for the gite.
---
RELATED: Immigration reform was used to unite faith groups – not anymore
---
Other churches and community members sent food, clothing and other supplies, while Martha's Vineyard Community Fund raised funds to support Venezuelans. Immigration lawyers and other volunteers showed up to help them figure out where to go next. Many were in the United States seeking asylum and had contacts here, but needed help getting in touch with them.
The Reverend Janet Newton, minister of the Unitarian Universalist Society of Martha's Vineyard, said the clergy, like other community leaders and residents on the island, had no idea the arrival of the migrants.
"Ironically," she says, "we were prepared, even though we had no warning."
The vineyard, she said, is often seen as a playground for the rich and powerful. Former President Obama and other celebrities — TV host David Letterman, journalist Diane Sawyer and director Spike Lee — own homes on the island, she said, and that shapes how strangers see the vineyard.
That's not the whole story. During the off season, she says, many people struggle. It's hard to find affordable housing, and sometimes people who work seasonal jobs can't make ends meet. As a geographically isolated community, Newton said, year-round residents have learned to care for each other.
"It's probably a little surprise to the people who sent the planes here," she said. "They didn't understand how our community worked or that we could be prepared for it. Hospitality matters here.
Newton said the island's clergy and other community services have learned to work closely together to resolve long- and short-term crises.
She fears Venezuelans are being used as pawns in a political drama, which Newton sees as an act of cruelty. As a religious leader, his response to this cruelty is to act with love.
"We are taught to welcome the stranger," she said.
On Friday afternoon, migrants who wanted to leave the vineyard were moved to a new shelter at Joint Base Cape Cod, which is operated by the state and federal governments. State officials are working to provide support services, Massachusetts Governor Charlie Baker, a Republican, said in a statement.
He also congratulated the residents of the vineyard for their hospitality.
"We are grateful to the vendors, volunteers and local officials who have stepped up to Martha's Vineyard over the past few days to provide immediate services to these individuals," Baker said in a statement.
Elizabeth Folcarelli, who directs community services at Martha's Vineyard, told reporters that the Venezuelans had been told they would be going to Boston.
"They were told they would have a job and they would have a home," Folcarelli told The Associated Press.
Governor DeSantis' office did not respond to a request for comment.
"We're not a sanctuary state, and it's better to be able to get to a sanctuary jurisdiction, and yes, we'll help facilitate that transportation so you can get to greener pastures," DeSantis told CNN in taking credit for sending the migrants to the Vineyard.
Texas Governor Greg Abbott and state officials say they transported 10,000 migrants to New York, Chicago and Washington, D.C., including 100 who were dropped off near the US Naval Observatory, where the vice-president lives. President Kamala Harris.
The Rev. Kenneth Young, associate director of the Massachusetts Council of Churches, said Bay State church groups have a long history of helping immigrants — but their efforts often go unnoticed. He said the story of the Venezuelans being sent to the vineyard has caught the eye – because of the island's reputation.
But similar stories happen all the time, he said.
"A lot of people are playing games with people's lives right now," Young said.
Catholic Bishop Edgar Moreira da Cunha of the Diocese of Fall River, Massachusetts, which includes the vineyard, pledged to continue helping migrants from Venezuela.
"Our welcome must be one of respect and compassion and be accompanied by our prayers for them in the weeks and months to come," he added. said in a report.
Florida's Catholic bishops have called reports that the Venezuelans were sent to the Vineyard "disconcerting".
"Immigration is not just a political issue, but a fundamental human and moral issue," the Florida Conference of Catholic Bishops said in a statement. "Because immigrants are not faceless numbers, but human beings. They are our brothers and sisters. »
Seadale said he was grateful for church members who stepped up to help Venezuelans and for help from other congregations and the wider community. Because he was out of state, most of his job was to make phone calls when church members answered in the field.
He said small churches like St. Andrew's still matter. And the response from the church and community shows that when people listen to their hearts, they can still rally together.
Love, he says, is always the answer. And religious leaders can choose to help bridge the nation's divisions rather than fuel them.
"It's becoming much clearer to me these days that there is a role for responsible people of faith," he said. "We need to step up and fill this void responsibly – taking care of everyone, no matter what they say or think."
---
RELATED: In Malta, Pope Francis is a model of mercy for migrants while
---