The week in detail: Putin, Arise Church and the cameras watching over us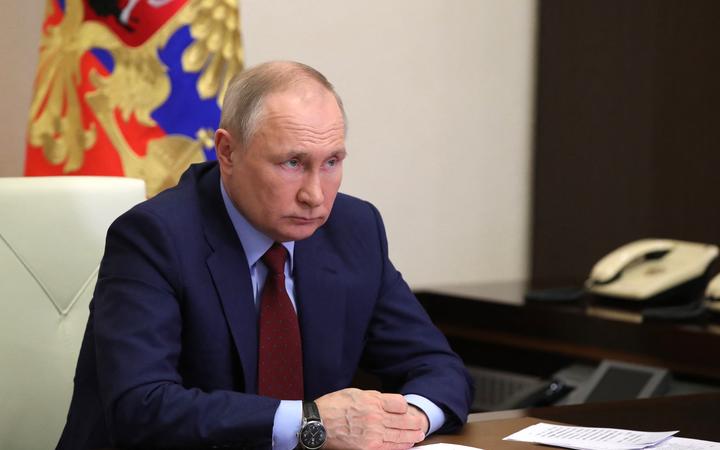 Every week The detail makes sense of big stories, and over the past seven days he's covered everything from Russian support for their strong leader Vladimir Putin to the ongoing cleanup in the flooded east coast city of Tokomaru Bay.
Explaining Putin's grip on power
We are almost three months into Russia's war against Ukraine.
From here in New Zealand, it is hard to understand why so many Russians would continue to support Russian President Vladimir Putin. The western world has cut all commercial tiesRussian media are strictly controlled and evidence of the torture and murder of Ukrainian civilians continues to mount.
The details Alexia Russell spoke with Onat Isik, a PhD student at the University of Otago, who explained the Russian mentality that dates back to the ninth century, when fear of invasion fueled a culture of undying faith in a supreme leader.
Since journalist David Farrier's explosive report on Arise Church was published earlier this month, more and more former members have come forwardalleging emotional and physical abuse and exploitation at Aotearoa's largest mega-church.
No one from Arise was interviewed in the media, but he released a statement acknowledging "the hurt and pain that continues to be expressed". Two independent reviews are underway and senior pastor John Cameron has 'stepped away' from the church.
The details Emile Donovan caught up with Farrier about his trip reporting the saga on its platform, Webworm.
"If you are pastoring 10,000 people, it involves responsibility. If you are pastoring 10,000 young people, I would say it involves more responsibility," he says.
The details Sharon Brettkelly was on the east coast of Te Ika-a-Maui for a kōrero with the people of Tokomaru Bay.
The township was hit by three massive floods in nine months, causing state roads and bridges to collapse and damaging whānau homes. The government pledged $175,000 for flood relief, but the community working on the ground said that would not be enough.
More than anything, they want to act where it counts. The precious kaimoana in the bay was destroyed by silt. The rugby pitch is also flooded with it, with an important match not far away. Several highly regarded companies have been hit with the fatal red sticker, meaning job losses – such as publican Paul Kennedy, who had to leave Te Puka Tavern.
"There's no one on the coast who hasn't been affected by this," he said. "Not a soul."
When you're walking the dog, waiting for the bus, or meeting up with friends, you may just be being watched.
There are more than 10,000 publicly funded CCTV cameras operating across Aotearoa, RNZ In Depth data reporter Farah Hancock has revealed.
Local councils and government departments shell out millions of dollars for CCTV, mostly for security reasons. This week's brazen shopping mall raids were all caught on camera, and it was the CCTV footage that was key to bringing Grace Millane's murderer to justice in 2018.
But Hancock's survey showed that crime rates in CCTV areas aren't going down – on the contrary, they're going up. Is the expense and invasion of privacy still justified if it doesn't protect us?
Join Farah Hancock and co-host Sharon Brettkelly on a stroll down bustling Fort Street in central Tāmaki Makaurau, where more than 21 cameras monitor their every move.
Find out how to listen and subscribe The detail.
You can also stay up to date by liking us on Facebook or follow us on Twitter.