Writers converge on Church St to celebrate Namma Bookstores | Bangalore News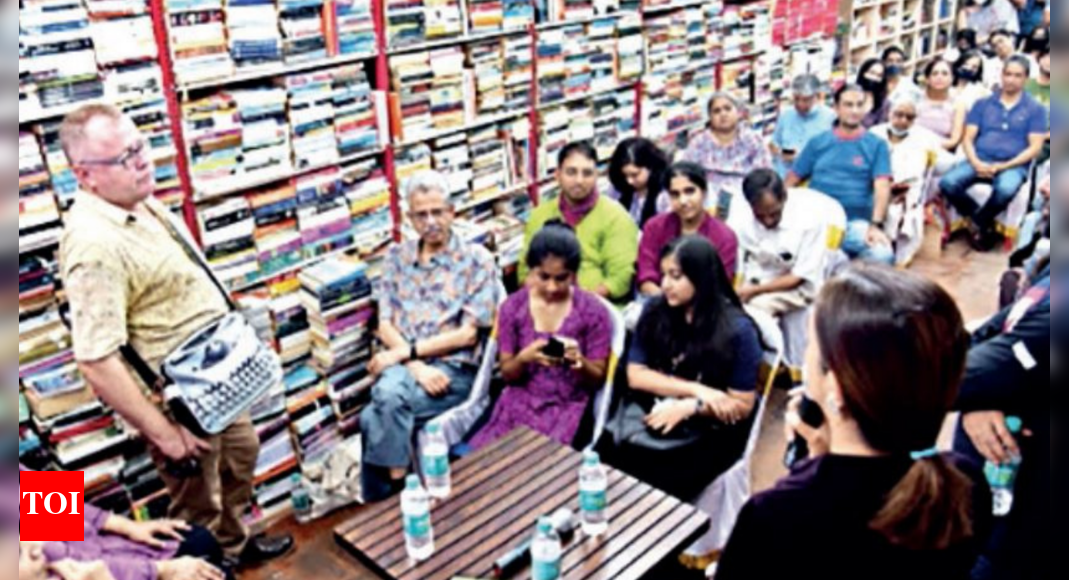 BENGALURU: Bibliophiles witnessed a unique scene on Church Street on Saturday as some of their favorite authors wandered from one bookshop to another reminiscing about their fondest memories of local bookshops.
It was part of the two-day 'BooksHopping' initiative, organized by writers from across the city, in which literati hopped into various Church Street bookstores.
Author Shatrujeet Nath said writers owe their success to these bookstores and it's time for them to pay off their debt. "This initiative aims to celebrate reading, books and bookstores," he said. One of the festival's six authors, Nath was speaking at his inauguration at The Bookhive.
Not only authors, but also booksellers addressed the public on this occasion. Keshav Gowda R of The Bookhive said it was a passion for selling rare and out-of-print books that brought him into the business. "My goal was to make these rare books accessible. I traveled through Chennai, Mumbai and Delhi to get there before finally opening our store in 2018," he said.
Mayi Gowda, founder of Blossom Book House, recalled her journey from a 2x2m stall to the two sprawling bookstores that sit on the same street. "It was exactly 20 years ago and this initiative by our beloved writers is excellent," he said.
Ravi Menezes, owner of Goobe's Book Republic, said he opened the store in 2009 when a friend funded it and it took them a month to go through 200 boxes of junk books. There has been no turning back since. "All street bookstores can also collaborate and organize similar events for the benefit of the reading community," he added.
Academician and writer Chandan Gowda said what makes local bookstores like Beehive so special are the interactions people can have with owners and vendors. "Their judgment in talking to us and suggesting what books we might look up is remarkable," he said.
A literary culture
Poet and novelist Jeet Thayil said the number of bookshops on Church Street was the highest in the world. "It also added to the culture of the surrounding area, as we regularly see writers and poets here," he said.
Writer Anjum Hasan recalled fond memories of his visit to a bookstore. "It was in a store called Giggles in Chennai. A pile of books fell on my head. It's not going to happen online. You can't experience the tactile nature of an online bookstore – walk in and find books you weren't looking for. Bookstores remind us that we're not just consumers, but readers," she said.
Shinie Antony, writer and co-founder of Bangalore Literature Festival (BLF), said such initiatives and bookstores are unique to Bengaluru because of its engaged, vibrant and accepting readers.
Writer Suresh Menon remarked that local bookstores also played Cupid for many young people. "There's something romantic and charming about bookstores," he said.